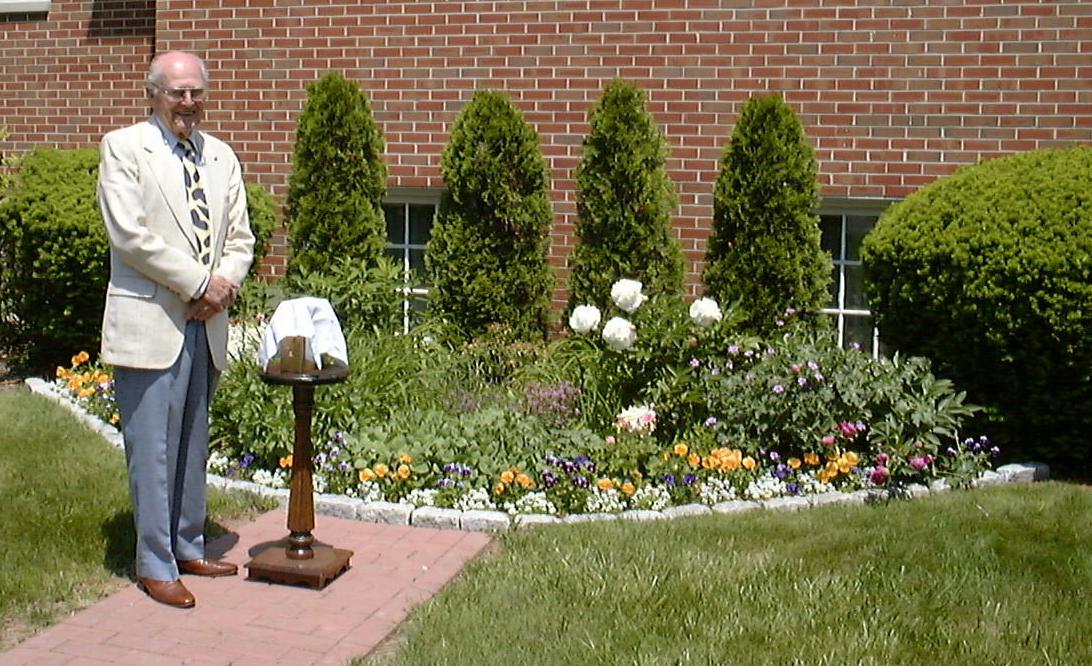 Memorial Garden Committee Chairman, Mr. Willard Nyquist, prepares for a Memorial service in the Garden
The Memorial Garden
For centuries, Christian churches have included on church property a burial place for the deceased. For practical as well as spiritual reasons, the Covenant Church of Cromwell is now providing a beautiful and inspiring Memorial Garden on its grounds.
The church has set aside an ideal site south of the sanctuary as an area that will be developed, as funds are available. There will be shrubs, a variety of annual and perennial flowers, a bronze plaque, brick walkways, and comfortable benches, all gently enclosed by a brick wall to create a beautiful and sacred place of meditation.
The development of the Garden, as well as its continuing care, is the responsibility of the church's Memorial Garden Committee.
The privilege of having a name entered on the bronze Memorial Plaque and ashes interred in the garden is limited to members of the Covenant Congregational Church, members of their immediate families, past members, and friends of the congregation.
Every committal in the Memorial Garden is recorded permanently by the church and the Memorial Garden Committee.
Our sacred Memorial Garden is a resting place for persons no longer with us, and a living Memorial of simple and natural beauty where every season is a reminder of life's eternal renewal. The quiet and beauty found within its walls are a source of comfort, encouragement and inspiration for all who remain.
We have had many requests from people in other churches for information about the Memorial Garden. Many have come to see it in person or have telephoned for information.
If anyone is interested in more information about our Memorial Garden, please contact us, and mention that you are inquiring about the Memorial Garden. We are pleased to share this information with others. Think about starting one at your church!
You are visitor number
This page was created by Gaye Smith.
Submit comments and suggestions
Last updated 07/27/00